3 Days South Coast & Golden Circle Tour – Diamond Beach, Jokulsarlon Glacier Lagoon,Ice Cave & Northern Lights
3 Days South Coast & Golden Circle Tour – Diamond Beach, Jokulsarlon Glacier Lagoon,Ice Cave & Northern Lights
Currency:
Additional Information
| | |
| --- | --- |
| Departure from | Reykjavik |
| Destination | Black sand Beach, Glacier Lagoon, Golden circle, Ice cave, Seljalandsfoss and Skogafoss, South Coast, Vatnajökull, Vik |
| Feature | 3-day |



Visiting the most popular places along south coast – the magical Ice cave & Glacier Hiking, Golden circle, Seljandsfoss and Skogafoss waterfall, Jökulsárlón Glacier Lagoon, Reynisfjara, Skaftafell Nature Reserve, etc…

We will hunt for Northern lights if the weather conditions are right!

English-speaking tour guide

Small group Experience

Free pickup and drop off in Reykjavik

Two-nights accommodation with private bathroom
Three-day tour along the south coast that brings you to some of the most precious jewels of Iceland – Glaciers, waterfalls, Ice cave, the Golden Circle, Northern lights hunting, and more.
Day one – The Famous Golden Circle
Your 3-Day Golden Circle and South Coast tour begins with the famous Golden Circle:  Þingvellir (Thingvellir), Geysir and Gullfoss.  Thingvellir National Park, a UNESCO World Heritage Site, is the historic location of the Icelandic Parliament, the Alþingi. Established in 930 c.e., this is the oldest continuously operated Parliament in the world, situated in one of the most geologically fascinating places on the planet.
Thingvellir is home to a rift valley between the Eurasian and North American tectonic plates. Stand atop the Law Rock where the Law Speaker, the Parliament's orator, would make speeches. The cliffs look out over Þingvallavatn, a very beautiful lake set within this incredible landscape.
Next, you'll visit the geothermal wonder Geysir Geothermal Area. Geysir was once a magnificent geyser that lent its name to the English word geyser. Though now dormant, its neighbor Strokkur always delights. You won't have to wait more than a few minutes to see Strokkur burst forth scalding water skywards, jumping up to 25 meters high.
Finally, we stop at Gullfoss (the Golden Falls), the most-visited waterfall in Iceland. Witness the powerful Hvita ("White") River roar down the two-tiered cliffs into the rugged canyon below. The force of the falls and the beauty of the surrounding golden mist are a sight to behold.
After the Golden Circle, we drive southward. Your hotel for the night will be close to the small town of  Kirkjubæjarklaustur, a fantastic base to catch the mesmerizing Northern Lights if conditions are right. A little luck is very useful when it comes to auroras!
Day two – Jokulsarlon Glacier Lagoon and Ice Caving
In the morning, we head east towards the magnificent Jökulsárlón Glacier Lagoon and nearby Diamond Beach. The lagoon is filled with icebergs of all shapes and sizes, as they glide in a dreamlike procession towards the salty waves of the Atlantic. The multifaceted colors are caused by a combination of factors, including ice compression.
Many of them are washed ashore at the Diamond Beach, where they glitter like diamonds on the black sand. There's nothing quite like walking on the beach as sunlight illuminates the beach with bright blue tones of the icebergs. Ocean birds are abundant and, if you're lucky, you might spot a playful seal. Your hotel for the night will be in the Skaftafell area, another great base to test your Northern Lights luck!
From Jokulsarlon, we head to Skaftafell Nature Reserve for a new adventure. Join our certified glacier guide and step into the mesmerizing world of Vatnajokull Glacier.
After taking a beautiful glacier hike, we'll enter a natural ice cave where you'll have some time to explore and take photos. Photographers will get the rare chance to capture mysterious blue light passing through glacial ice. During your adventure, an expert guide will explain the process of how these glacial ice formations came to be.
The ice cave we visit will be chosen based on current conditions. Including both ice cave and glacier hike exploration, we'll spend roughly 2 hours on the ice. This tour is suitable for people who are able to comfortably walk around 2 hours across easy outdoor terrain.
Day three – South Coast Sightseeing 
After a nourishing breakfast, we'll start our day slowly driving towards Reykjavik and making plenty of stops along the way.  If the roads are clear, we'll start the day off with a quick detour to Fjaðrárgljúfur Canyon.
Next, we'll have the chance to visit the iconic Eldhraun lava field before heading to Reynisfjara black beach. The powerful waves of the Atlantic Ocean really show their force here. Watch as these roaring, white-tipped beauties crash onto the black beach. A word of warning – the waves here can be unpredictable! Always follow the advice of your tour guide.
You should pop into the black basalt cave before you leave the beach. Reynisfjara is famous for its basalt columns just off the shore, called the Reynisdrangar. Gazing up at these dramatic black pillars, you'll get a good idea of where the legends of Icelandic troll folklore sprang from!
After Reynisfjara, our next stop will be a visit to Skógafoss, an impressive waterfall that drops 60 m into a tranquil pool below. There are 527 steps leading to the top, yet the steep climb is worth it for the panorama alone. The famous volcano, Eyjafjallajökull, lurks high above the waterfall, so if visibility is good you'll get a glimpse of this magnificent mountain glacier.
On a clear day, we'll get great views of Mount Hekla on the way to Seljalandsfoss, one of the most unusual waterfalls in the world. You can walk behind these graceful falls to enjoy the view from both sides.
After enjoying our final stop at Seljalandsfoss, your 3-Day Iceland's South Coast tour comes to an end. We'll return to Reykjavík between 16:00 and 19:00, depending on the conditions.
Pick up: 9:00am
Drop off: between 16:00 – 19:00 on the third day, depending on the conditions.
Due to the regulations implemented regarding the shuttle traffic in the downtown Reykjavik, we have offered 13 pick up points instead of directly picking up guests from accommodations . Please click here for further information.
Please note that all accommodations are subject to change based on availability.
Accommodations of similar quality would be offered in case of full booking.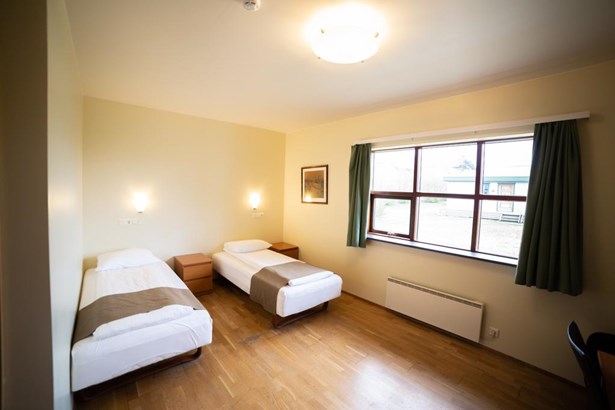 Free pickup and drop off in Reykjavik

English-speaking tour guide

A certified glacier guide

Hotel room with private bathroom, and breakfast. *Single room supplement is required for solo travellers.
Each participant is allowed a day backpack and one luggage bag weighing a maximum of 20kg. Luggage storage is offered for a small fee and can only be guaranteed if booked beforehand.
Minimum age: 8 years

Views of Eyjafjallajökull glacier, Hekla Volcano, Fjadrargljufur Canyon and entrance to the Ice cave are subjected to weather conditions.

Please note that ice caves are an ever-changing natural phenomenon and, therefore, unpredictable. We will visit one ice cave during the tour and the choice of a cave is based on conditions and safety.

All extra rental equipment should be rented 3 days prior before departure. Please contact us by email: hello@icelandeasy.com if you would like to book.

Ice caving and glacier hiking are refundable in portion if the weather condition isn't possible for visiting. In return, we will have other itineraries for substitution. Please note that the refund varies with the operator's decision, IcelandEasy solely acts on behalf of the operator in refunding.
Crampons are metal spikes that we attach to the soles of your hiking shoes, these enable you to walk on the glacier ice without slipping. Crampons will be used during glacier hiking, please make sure you have good hiking shoes. We recommend hiking shoes that are thick, sturdy and waterproof.
Please refer to below photos as reference:
The Northern Lights are natural phenomena and we unfortunately cannot promise you will see them. Their appearance depends upon atmospheric and weather conditions. Please note that refund or extra Northern light hunting tour is NOT available if we fail to search for Northern lights due to the bad weather conditions.
Breakfast is included on days 2 & 3 at your hotel restaurant. Meals and beverages are otherwise not included on this tour. We will, however, be making stops where you will be able to purchase all necessities.
All cancellations must be emailed to hello@icelandeasy.com. Cancellation by Whatsapp, Facebook, or other channels will not be accepted. A cancellation fee charge as follow:
| Days | Cancellations charge |
| --- | --- |
| More than 18 days' notice | 10% |
| Less than 18 days' notice | 50% |
| Less than 96 hours' notice | 100% |
**Working days notice (excluding Saturday, Sunday & Public holiday in Hong Kong)